Grafton Bridge is a bascule bridge which spans the Clarence River in Grafton.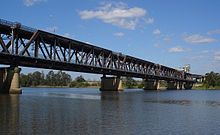 The upper level of the bridge supports a two way road for traffic via Bent Street (Summerland Way), and its lower level supports a rail bridge that carries the North Coast railway line, a water main, and footbridges on either side.
A bridge over the Clarence River in Grafton was first conceived in 1915. The original design called for a railway bridge with a footway, but in 1922 the design was changed to accommodate vehicular traffic as well. There is provision for a second track across the bridge but at this time it is being used as an easement for a water main. The Grafton Bridge was built by Dorman Long and opened in 1932 by the Governor-General of Australia, Sir Isaac Isaacs.
The bascule span was operational from its opening in 1932 until 1969. The bascule can no longer be raised due to an added water main. With the decline in shipping along the Clarence River, the opening span was sealed shut and it can no longer be opened.
Resources held in the library
Web based resources