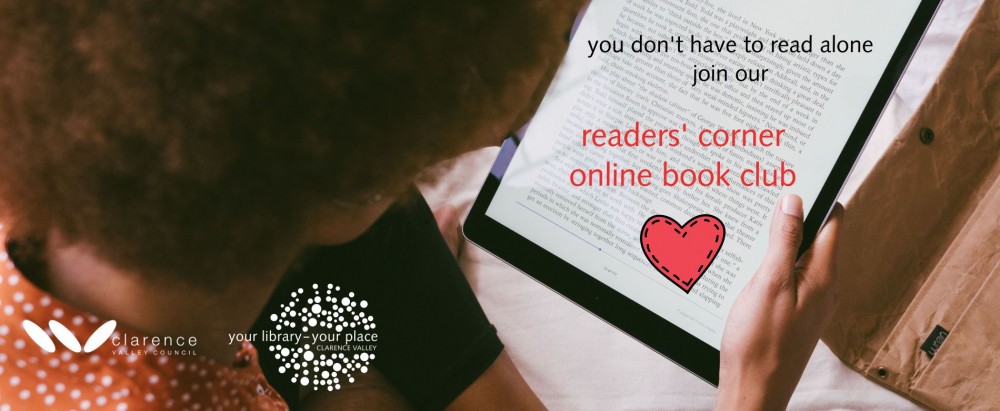 Readers' Corner Book Club* online@your library 
*formerly End of the World Online Book Club
Keeping your physical distance during these unsettling times doesn't mean you can't share a good read with others, get inspired and feel connected. If you're interested in taking part of your library's free online book club here's what to do:
Make sure you're a member of Clarence Regional Library
Join up to the group via Facebook or email: libraryevents@clarence.nsw.gov.au
Download the Book of the Month to your device or computer using our BorrowBox service. To begin we are opting for some of the latest Australian reads that have simultaneous loans and are available to the reader for 60 days from the date they are activated. If you require any help to download or use Borrowbox please call your library on 6641 0111 or follow the online instructions.
Start Reading and Sharing
If you like it why not invite some friends!?
Your library will facilitate the online book club by offering discussion points, sharing insights from authors and readers and listening to what you and your fellow club members have to say. We encourage members to discuss and post as often as they like with the group about the book of the month but also about any other books or authors they are reading (or listening to). The more we share the more discussion and connection we have around our shared love of reading!
 Book of the Month
April 2020: "The Mother In Law" by Sally Hepworth
May 2020: "The White Earth" by Andrew McGahan
June 2020: "An Unusual Incident" by Emily Maguire
Our online book club titles have simultaneous loans and are active for 60 days from the date they are activated. You can locate them in the BorrowBox app the second carousel in the eaudio and ebook sections are our Listen Now-No Queues or Read now-No queues selections. For more information on how to download and use BorrowBox on your phone, tablet or other device visit https://www.crl.nsw.gov.au/services/elibrary/ebooks/
Happy reading library lovers!