We are delighted to confirm the RBdigital app will now launch on 28th June 
From 28 June to 29 July 2017 Wavesound will have support available to assist library users with any questions in relation to the new merged app. Over the first two weekends after the new app goes live which is 1 & 2 July and 8 & 9 July Wavesound have a live toll free number available to call between 9 to 5pm AEST on Saturdays and 10 to 3pm AEST (Australian Eastern Standard Time) on Sundays. This line is operational during usual business hours Monday to Friday 9 to 5pm AEST on all other dates during this first month.
The Toll free number is 1800 571 819.
What this means for you…
Current services will experience downtime for most of 27th June.
OneClickdigital app users will receive an update notification on their device.  After the update the app icon will change to RBdigital.  The new app will retain all audiobook/eBook checkouts and downloads that were in the old app.
Zinio for Libraries app users who also use the OneClickdigital app can simply open their newly updated RBdigital app to explore your magazine collection and access all previously checked out magazines.  They will however, need to re-download any magazines again to read offline.  Library members who don't use the OneClickdigital app can continue to use the Zinio for Libraries app for at least 60 days.  A countdown will appear in their Zinio for Libraries app directing them to install the new RBdigital app from their app store.
To log into the new RBdigital app, your library member can use either their OneClickdigital username and password OR Zinio for Libraries email/username and password.
Library members can now read digital copies of popular magazines on a computer, tablet, smartphone, or mobile device, these include  Australian Women's Weekly, Woman's Day, Better Homes and Gardens, Australian Good Taste, Country Life, Girlfriend, Inside Sport, Rolling Stone, Vogue and many more.
These full-colour, interactive magazines can be downloaded and kept on your device. There is no loan periods and no limits to the number of magazines you can access.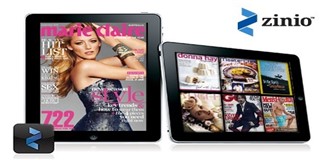 Click to access Zinio eMagazines>>
If you have not used Zinio before, you will need to have:
A mobile device or computer with internet connection
Your  Library membership card number
Created a Clarence Regional Library Zinio Account
Created a Personalised Zinio Account
Downloaded  one of the Zinio for Libraries apps  to your Ipad or Android device or the Zinio Reader 4 for your PC. There are apps also available for the iPhone, and Kindle Fire/Fire HD.  

For more information on setting up and downloading eMagazines visit:
Reference our Zinio User Guide to find answers to frequently asked questions.