Grafton library provides a number of rooms to cater for various activities.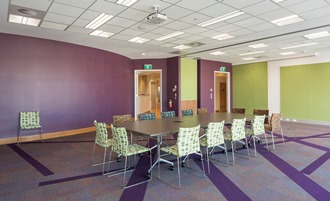 Meeting Rooms 1 & 2
Meeting Rooms 1 and 2 can be opened up to create one large area suitable for events or can be partitioned into 2 smaller areas. 
Meeting room 1 contains a small kitchenette
Meeting room 2  provides a computer access connection to an HDMI overhead data projector and a  drop-down ceiling projector screen
WiFi access is available during library opening hours 
These rooms can be hired for a fee.
For enquiries regarding booking a meeting room, please email: meetatgrafton@clarence.nsw.gov.au
---
 Study Rooms 3 & 4
Study Rooms 3 and 4 are separate spaces which can be booked by library members for quiet or group study.
Study room 3  contains computer access to an HDMI overhead data projector and a  drop-down ceiling projector screen
Study room 4 contains computer access to an HDMI Smart TV display
WiFi access is available during library opening hours