3D printing at Grafton Library
Grafton library has a Makerbot Replicator+ 3D printer.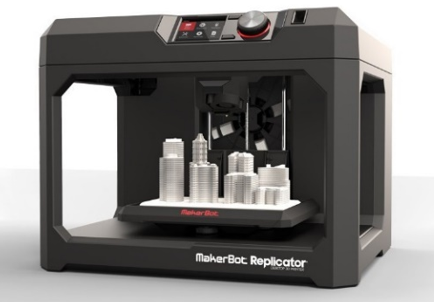 How can I use the 3D printer?
Find or create the 3D object that you want to print. Click here to download instruction on 3D printing
Fill in a 3D Printing form, click to download form
Save your job as a .STL makerbot file on a USB and give it to staff with your form.
Staff will print your item and notify you when it is ready for collection.
Collect and pay for your item at Grafton library.
Access
All public computers at Grafton Library have the Makerbot Print software available to customers to process their 3D model and save it as an STL Makerbot file on a USB.
Cost & Payments
$3.00 per hour (or part there of)
Customers are responsible for the cost associated with errors in the file, incorrect files and breakage of parts due to sufficient strength.
What can I print?
We can print 3D objects in PLA plastic using a design that is uploaded from a digital computer file.
Thingiverse is a free database with a large catalogue of objects to help you get started.
TinkerCad is awesome for learning to design in 3D. Once you sign in, the "Starter" lessons teach you how to move, place, edit, and delete objects.
Frequently Asked Questions
What type of printing material does it use?
The Makerbot Replicator+ 3D printer uses PLA printing filament. PLA, or polylactic acid, is a nontoxic resin made of sugar derived from starches found in foods, like potatoes,  and corn.,
Is it recyclable?
PLA is compostable.
Where can I pick up my 3D print job?
You can collect your 3D printing job from Grafton Library at the service desk.
Can I have more than 1 color on my print job?
Only single colour prints are available.
What is the maximum size object I can print?
The Makerbot build plate has a printable area of; 29cm wide, 18 cm deep and 14 cm high.
What is the maximum time my job can take?
The maximum time your job can take is 3 hours.
Can I Use the Library computers to create a 3d print job?
Yes, Makerbot print software is available on all Grafton Public Library PCs for you to DIY.
Printing tips
Raft
You will receive your print as is from the printer, and you may be required to do some clean up. This usually includes removal of rafts, which are additional pieces printed to stabilise the print job as it is being constructed by the printer.
Support
Can I get help creating print jobs?
Check out this online tutorial to help you create your Makerbot+ print job: